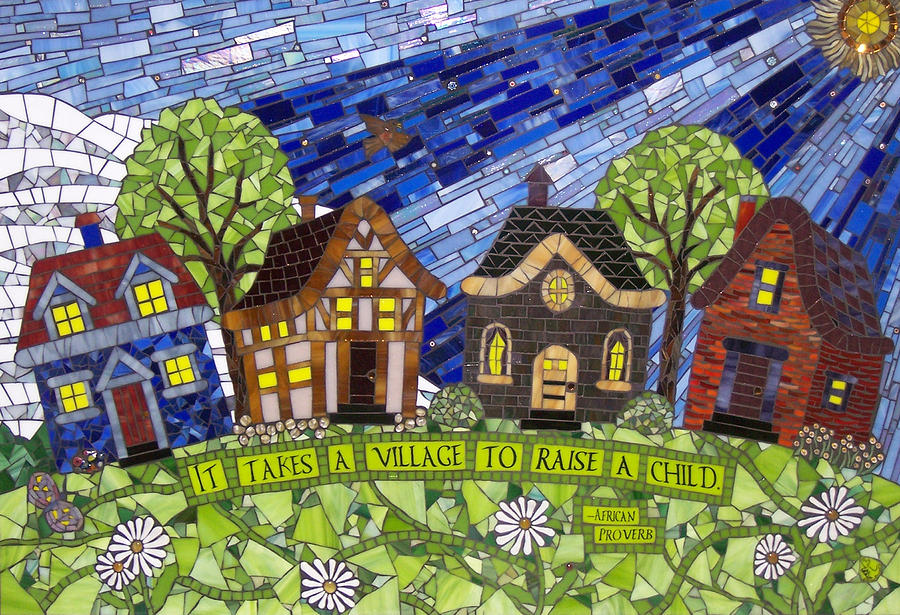 Glass artwork by Barbra Benson Keith
What happens when you feel the type of village you want is currently non-existent? What do you do if the only way to feel connected to your current potential village is to change who you are as a person and how you parent your children? Would you stay?

This is the dilemma I am facing at the moment. The sense of community, which I so desperately crave for my children, does not seem to be here. We were very fortunate to connect with a beautiful family who introduced us to a different way of life, of parenting; of living! My blinkers were well and truly removed through them and my gratefulness is overwhelming.

When they moved forwards onto a new journey, I was left forever changed by knowing them. My eyes viewed my life around from a different angle. My ears took notice of how other people spoke to one another and especially to their children.

I have come to realise that we just do not fit in here anymore. We have changed. Just when I thought we were set into a particular pattern and way of life, I feel us transforming. Some of us faster than others, but we are all on a path.

Do we leave our old path to start a new one? If we continue on our current route, I fear that we would have to change our authentic selves to fit in. To shift our ethos to align with what is more expected around many parts of the area doesn't seem like a healthy idea to me. Where will a new path lead us? I do not know; but what I do know is that the life surrounding us here does not fit us anymore.



I think every family needs a community around them and I really believe this is something that the majority of us have lost touch with. I yearn for Womens Circles, people with the same parenting and educational ideals as we do, children who I want to see my children spend time with and learn good habits from.

Maybe its time to build our circle.